2001 MTB Race Schedule
2001 Time Trial Schedule
2001 Touring Schedules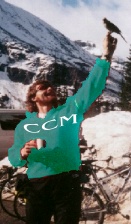 Alberta Cycling Assc.
Ft.St.John Blizzard Cycling Club


Velo News
Bicycling Magazine
Mountain Bike Mag.
GP's Shady Junction
24 Hours of Adrenalin
Canadian Death Race

April 1,2001
The Wapiti Snowball MTB Classic




Plum Perfect; Proudfoot Fades To Third

In an amazing comeback, Francis Plum attacked in a technical singletrack section of what one rider called an all-uphill loop course and left James Proudfoot with little to do but try and hang on for second place. Unfortunately, it wasn't his day as Randy Kons, riding what he called his secret weapon, caught Proudfoot at the base of the final climb and opened up a hundred meter lead by the finish.

Said Proudfoot, "I knew I was in trouble when I spun out my '58x10' gear on the fast section and I could see that Francis was still gaining on me. When Kons passed me I was wiped from the duel with Francis and I could barely turn my bail-out gear, the '49x18'."

Plum's astounding comeback began when his bike had a complete mechanical. "Everything on my bike broke at the same time," said the winner, "but luckily I had decided that I would carry a complete bike on my back just in case."

Kons, a notoriously poor climber, was asked what had enabled his new-found climbing expertise. "In past races, I've been forced to push my bike up the steeper climbs due to fatigue and back pain. Realizing that I would probably have to push my bike again this year, I decided to train for it. I put in dozens of klicks pushing my son's stroller up the Muskoseepi park trails this Winter and I really felt the difference out there today. Also, I came to the conclusion that if I would be pushing my bike more, I'd need a lighter, less complicated racer with low rolling resistance. My new bike is very easy to pick-up over obstacles and flies up the hardest hills. I'm very happy with it."



If you haven't figured out that this is an April Fools' web page, the reason behind all this silliness is that someone has been teasing Randy about this.